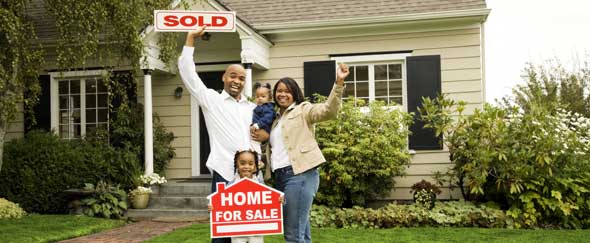 It is maybe the first priority, the dream that has to become true, that day that every family owns its own house. People keep dreaming about it, eventually when the moment comes they realize that this is one of the hardest decisions, one of the most complicated choices they have to make.
The challenge of buying a home for the first time can seem so daunting. It's tempting to either go with the first house that falls in your price range or just continue to rent. In order to make the right choice for this lifetime decision, patience is of uttermost importance. To make the process easier and get the most out of the purchase, we will examine what you'll need to consider before you buy. We will also look at what you can expect from the buying process itself, and some handy tips to make life easier after you purchase your first home.
There are some important considerations "Before You Buy".
Apart from the obvious emotional connection of your family with the need of owning your house, you need to do some serious thinking. The first thing you'll need to determine is what your long-term goals are and then if and how home ownership will fit in with those plans. Some first time home buyers are simply looking to transform all those "wasted" rent payments into mortgage payments that actually give
something tangible. Others see home ownership as a sign of their independence and enjoy the idea of being their own landlord. Narrowing down your big-picture homeownership goals will point you in the right direction. Amongst the hundreds of questions you might come up with, here are five important questions to ask yourself:
What is the type of home that will best suit your needs?
There are several options when purchasing a residential property: an apartment, a traditional single-family home, a townhouse, a condo, or a multi-family building etc. Each option has its pros and cons. Depending on your homeownership goals, you will need to decide which type of property will help you reach those goals. Remember this is a family decision and you should be discussing it with your family members. Everyone else is not in the right place to advise you.
What specific features are you looking for in your ideal home?
While it is good to retain some flexibility in this list, this perhaps is the biggest purchase of your life and you deserve to have it fit both your needs and wants as closely as possible. Your list should include basic desires like the neighborhood and size, to smaller details like bathroom layout and a kitchen that comes with trust-worthy appliances.
Are you planning to buy cash or use a mortgage facility? Do you know how much mortgage you qualify for?
Before you start shopping, you need to know the maximum amount of money you can afford to spend. You have to stay within the budget. If cash is not the only option, then it is important to get an idea of how much a lender will actually be willing to give you for the purchase your first home. You may think you can afford a $300,000 home, but lenders may think you're only good for $200,000 depending on factors like other debts you have, your monthly income and how long you have been at your current job.
How much money can you actually afford to spend for your new house?
People usually fall in the trap of monthly payments. They forget about the final total amount that they will have to pay. They focus only on the monthly payments. Sometimes a bank will give you a loan which is more than the money you need for the house than you want to pay for.
Just like with the purchase of a new car, you will want to look at the house's total cost and not just the monthly payment. Looking at the monthly payment is also important, along with how much down payment you can afford, how high the property taxes are in your chosen neighborhood, how much insurance will cost, how much you anticipate spending to maintain or improve the house and how much your closing costs will be. Do not forget to add all relevant costs which come with your house purchase.
Who will help you find a home and guide you through the purchase?
A professional real estate agent can help you locate homes that meet your needs. They should be in your price range and you should be available to view them. Once you have chosen a home to buy, these professionals can assist you in negotiating the entire purchase process, including making an offer, getting a loan, and completing paperwork.
A good real estate agent's expertise can protect you from any pitfalls you might encounter during the process. It is important to use an engineer to check and verify the quality of the house you are buying. They will identify possible repairs you need to make and the budget required (if you are not buying a new house). You will also require an attorney who specializes on real estate to assist on the legal part. Trying to avoid or cut expenses by doing everything on your own could cost you much more than the fees paid to these experts.
After carefully answering at least the above five questions, you need to know the buying process. Since you have decided to take the plunge, let's explore what you can expect from the home buying process itself. This could be a chaotic time with offers and counter-offers flying furiously around you. If you are prepared for the hassle (and the paperwork), you can get through this process with your sanity more-or-less intact. Things can get complicated but here is the basic progression you can expect:
Finding a home is a process that requires a lot of time. At the end of the day, this is a lifetime decision and deserves as much time and attention as possible. You have to take advantage of all the available options in the market. They include but not limited to using your real estate agent, searching for listings online or even driving around the neighborhoods that interest you in search of for-sale signs.
Putting some feelers out there with your friends, family and business contacts is also important. You never know where a good reference or lead on a home might come from. You have to be open minded and willing not to leave anything to chance.
Consider your financing options and secure financing.
Nowadays, first-time homebuyers have a wide variety of options to help them get a home. Different type of Loans and mortgages are available in the market. Sometimes, developers make deals with banks to offer to its clients incentives for buying the property. Take your time and look at all options. Remember that your mortgage interest rate will also have a major impact on the total price you pay for your home, so shop around. It will really pay off.
When the moment comes to make an offer, do not be shy, be ready to bargain.
Sometimes, your real estate agent can help you decide on the offer to give for the house along with any conditions you want to ask for, like having the buyer pay for your closing costs. Directly or via your agent, you will then present the offer to the seller's agent; the seller will either accept your offer or issue a counter-offer. You can then accept, or continue to go back and forth until you either reach a deal or decide to call it quits.
If you reach an agreement, you then proceed to make a good-faith deposit. The process then transitions into escrow. Escrow is a short period of time (often about 30 days) where the seller takes the house off the market with the contractual expectation that you will buy the house. Provided you don't find any serious problems with it after your engineers' inspection and your advocate conducting due diligence, then it is all good. You have to obtain a home inspection. Even if the home you plan to purchase appears to be flawless, there's no substitute for having a trained professional inspect the property for quality, safety and overall condition of your potential new home.
If the home inspection reveals serious defects that the seller did not disclose, you will generally be able to rescind your offer and get your deposit back as long as your initial LOF was covering that. If you are not happy with the LOF, then do the inspection before signing or paying anything to the developer or the seller. Negotiating to have the seller make the repairs or discount the selling price to cover the defects are options if you find yourself in that kind of situation.
You always have options, you either close a good deal or move on. If you're able to work out a deal with the seller, or better yet, if the inspection didn't reveal any significant problems, you should be ready to close. Closing basically involves signing a ton of paperwork within a very short period of time, while praying that nothing falls through at the very last minute. An advocate is required in order to avoid any mistakes that could cause problems.
Things you'll be dealing with and paying for in the final stages of your purchase may include having the home appraised (mortgage companies require this to protect their interest in the house), doing a title search to make sure that no one other than the seller has a claim to the property, completing mortgage and other relevant expenses.
You made it. You managed to get a great deal. Congratulations New Homeowner… Now What?
You have signed the papers, paid the movers and the new place is starting to feel like home. Game over right? Not quite.
Let's now examine some final tips to make life as a new homeowner more fun and secure.
Now that you own your home, a lot of expenses that used to be the landlord's liability become yours…. So keep saving!!!
With homeownership comes major unexpected expenses, like changing tiles or getting a new water heater etc. Start an emergency fund for your home so that you won't be caught off-guard when these costs inevitably arise. This maybe is one of the most valuable assets you own. You want to keep it nice and nit. Perform regular maintenance.
With the huge amount of money you are putting into your home, you will want to make sure to take excellent care of it. Regular maintenance can decrease your repair costs by allowing problems to be fixed when they are still manageable. It will also help to keep its value high.
If you are not ready to sell your house then ignore the housing market. The worth of your home does not matter unless you want to sell it. Being able to choose when you sell your home, rather than being forced to sell it due to job relocation or financial distress, will be the biggest determinant of whether you will see a solid profit from your investment or not.
House prices are relevant to market conditions and fluctuations. Although real estate market is quite stable and grows over the years, do not rely on making a killing on your home to fund your retirement.
Even though you own a home, this should not hinder you from making maximum contribution to your retirement savings accounts each and every year. As hard as it may seem to believe, people made fortunes during the housing bubble, this does not necessarily mean that you will make a killing when you sell your house.
It is obvious and beyond any reasonable doubt that buying your house is one of the most beautiful moments for your family. It has to remain a pleasant procedure and by being careful, will make it an even better experience.
This brief overview should help put you on the path towards filling in any gaps in your home-buying knowledge. Remember that the more you educate yourself about the process beforehand, the less stressful it will be, and the more likely you will be to get that house you want for a price you can afford with a smile on your face.
At the end of the day, our families deserve only the best.
By Kosta Kioleoglou  REValuer,(Tegova)
Civil Engineer Msc – DBM
Chief Strategist (CSO) for the East African Region
Director of Engineering – Property Appraisal & Valuations