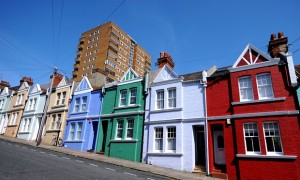 House prices in England and Wales rose by 0.5% in August to reach an average of £184,682, according to the latest figures from the Land Registry.
Despite the month-on-month increase, the annual rate of growth slowed to 4.2% – its lowest level since November 2013. This was just under half the recent peak of 8.5% recorded a year previously.
However, housing campaigners said the figures showed how prices were still increasingly out of reach for would-be buyers, with the nationwide average now £8,000 more than in August 2014, and some parts of the country seeing far higher rises.
Over the past year, the average cost of a home in London has risen by £30,000 to £493,026, and in the rest of the south-east prices have gone up by £18,000 to an average of £254,658.
The Land Registry figures, which are based on completed sales registered during the month (not including new-build homes), showed annual price rises in all regions of England and Wales.
London and the south-east recorded the largest leaps, with prices up by 6.6% and 7.6% respectively, while in the north-west prices are up by just 0.2% year-on-year to an average of £113,732. The latter region recorded a 1.4% fall in August alone, compared with a 1.7% increase in London.
Campbell Robb, chief executive of Shelter, said the rises were "yet more evidence that our housing shortage is pushing the dream of a stable home out of reach for millions".
"Piecemeal government schemes like help to buy or starter homes just aren't helping the ordinary families who are completely priced out of a home of their own, and left to face the huge costs and instability of private renting."
In some parts of the capital, however, prices have dropped over the year, suggesting buyers have reached the point where they can no longer stretch their budgets. In Camden the Land Registry figures showed homes changing hands for 1.7% less than in August 2014 at an average £816,916, while in Hammersmith and Fulham prices are down by 0.3% at £785,093.
The two boroughs both saw strong growth between 2013 and 2014, and it seems that the slowdown is hitting areas where homes have become unaffordable. The 10 London boroughs which recorded double-digit annual growth in August were those where homes were cheapest.
The biggest increase was in Newham, where buyers paid an average of £316,045, an increase of 15.5% on August 2014.
Housing shortage
Surveyors and estate agents have been reporting a shortage of homes for sale, and the Land Registry's figures for transaction levels suggest this led to a slowdown in activity in the spring.
Between March and June an average of 65,550 homes changed hands each month, compared with 73,985 in the same period of the previous year.
Andrew Bridges, managing director of London estate agents Stirling Ackroyd, said pressure was building in the property market. "Demand from buyers is growing steadily, while the supply of properties coming on to the market remains resolutely fixed," he said.
"Rising pressure is shooting off in new directions. Today's new hubs of activity aren't in Kensington and Chelsea – they're emerging in boroughs like Newham and Barking. Volumes matter as much as prices – and it's here that there's a greater supply of relatively affordable homes."
Source The Guardian http://www.theguardian.com