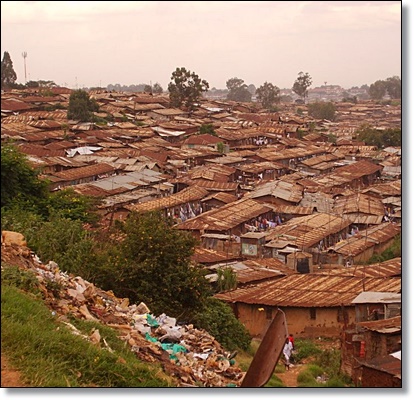 Kibera: Substandard housing still persists
Kenya is a country of big contradictions. Its capital city, Nairobi, consists of an impressive urban environment. Within a few minutes, one can get completely contradictory views of the city. It is a mixture of extreme luxury and extreme poverty. Karen is one of the high end areas of Nairobi but to get there, one has to drive through a giant slum "Kibera." Separation between people living in shanties and people living in multimillion dollar houses is just a few hundred meters. Kenya's housing development situation has been skewed in favor of the high income earners as most developers and housing financiers always target high income population. Their perception is that this group of people can rent houses or take up mortgages of which they can repay comfortably. The result is the isolation of low income population who form the majority. This scenario has been depicted across the Kenyan economy.
Provision of adequate, affordable and decent housing for low income households is clearly in short supply.  As a result of the constraints on both the supply and demand sides, Kenya's low-income urban population is forced to live in informal settlements. They have no security of tenure. They have limited access to water, sewage and power systems, and a myriad of security issues.
Although the real estate development industry has shown an impressive growth over the last years in terms of commercial buildings and medium to high income houses, there seems to be a minimal interest in providing low income housing units by other developers in private sector. Their success in the middle and high income housing markets implies that they may have the capacity and skill set to supply the low-income housing required to alleviate, at least partly, the housing shortfall in the country.
Developers have shied away from the low income market mainly because the profitability margins are lower compared to housing developments for the other markets. There are also other factors affecting the supply of housing from private sector housing developers which demoralize them. The cost of production and the opportunity cost to the developer's finite funds in either providing middle income housing or high income segment housing are key negative factors. Developers have to consider the rate of return to their investment and how fast they'll realize this. Provision of low cost housing to the increasing number of lower and middle income classes in the country has also been hugely affected by the cost of land and inadequate infrastructure.
The reality though is that the "low income" segment of the market is very interesting from several aspects. Everyone has the right to have access to buy, rent and use a house in an environment that is providing at least some minimum standards of living.
Kenya's housing challenge is extreme. The average price for an apartment in the capital city of Nairobi is currently above 10 million shillings having quadrupled its value in the last few years. There is no home on the formal market below KES 2 million, a level that is still completely unfordable to low-income populations which form the majority of Kenya citizens. Access to finance and mortgages is still very difficult.  Interest rates are very high and a huge number of the applications have been declined. In reality, only 8 percent of urban Kenyans have access to housing finance with only 22,000 active mortgages in the whole country according to the available data. This is not because Kenyans lack the desire to own a home, homeownership is a central part of the culture. Instead, it is because of a nascent mortgage market that equals only 2.5 percent of GDP (compared to 70 percent in other countries) and a financial market that suffers from a lack of long-term capital to on-lend as mortgages. At the same time, property prices in Kenya continue to rise at a rapid rate in several cases. As a result, over 60 percent of urban residents live in sprawling slums.
Another interesting fact is that the population growth of Kenya is one of the fastest growing in the world. By 2030, the population is estimated to reach 65 million people. With simple mathematics, anyone can understand that this will lead to a huge problem. To avoid this, the country must face the housing problem head on and create a long term sustainable housing environment.
Many people argue with the fact that in a free market the private sector is not there to cover the social needs of a country but to make profits. On the other hand, the government is the one who has to apply social policies in order to achieve basic standards of living for its citizens.
I cannot disagree with the above argument but I would like to add that in a free economy and a free market, smart entrepreneurs should be open minded and sometimes think out of the box. Targeting the medium and high income class looks like the easy way to make money in this industry. Demographics and macroeconomics have their own important role when it comes to long-term success of a business. Africa and Kenya have to show a completely different profile in comparison with the west where the majority of the population is spread between the medium and upper class. These groups provide the main target market for developers and property investors.
In Kenya, over 80% of the population belongs to the low income class with a huge demand for housing due to a big shortage of supply. This shortage has been a major contributing factor to the rise in property prices. Recently though, an unbalanced supply across market segments has been observed. There is a broad supply to the upper middle income and high end market compared to the insufficient supply on lower middle income segments.
Formal housing supply is undermined by a number of factors. Limited availability of serviced plots in urban centers is a problem affecting housing delivery across all income bands. It is largely affecting afford ability for lower income developments because of the added cost of servicing plots. There are also major question marks over the capacity of local government to ensure good quality residential development.
Most of the population cannot afford housing built by formal developers, and as a result, the majority addresses their housing needs independently and often informally. This contributes to the growth in slum dwellings and poor quality housing. The housing backlog is estimated to be two million units. Research by a slum dwellers umbrella body, Muungano Wa Wanavijiji, (http://www.mustkenya.or.ke/) found out that 70 percent of Nairobi's housing stock comprises single 10m² shacks made of wood, mud, tin galvanized sheets or wattle. Recreational spaces in Nairobi have a bigger total landmass than the slum settlements.
Many people like to say that this is a problem without a solution as the country does not have the money to support a massive social housing program. It cannot provide affordable housing to millions of families but on the other hand, developers are making a killing out of the situation.
Indeed the above sounds very reasonable but I prefer to see the glass half full than half empty. Thinking out of the box may create an opportunity for the society to achieve better living standards and make profits as well.
According to Knight Frank, which reports on the high end residential market, a lethargic prime residential market has resulted in developers shifting focus to smaller residential apartments. It has recorded a notable reduction in activity in the second quarter of 2014 after a historic high in the first. Further, according to the report, developers in the Nairobi prime apartment market are shifting focus from three and four bedroom apartments to smaller units such as studio, one and two bedroom apartments due to oversupply in the former. Recently, a new trend has made its entry in the market, "Bed sitters."
So what is actually happening? The market can support a specific amount of high end and rather expensive properties. Developers are facing challenges today as selling a property in Nairobi is becoming more difficult. Trying to find alternative options, developers are looking into different types of investments and maybe this is the best time to change completely the direction as well as the target group.
According to the World Bank's 2014 Doing Business Report, Kenya's rapid urbanization, demographics and the under supply of housing points to a consistent need for middle and low cost housing. This is in the range of US$10 000 to US$40 000, (1 to 4 million KES) where demand is at its highest and supply at its least. Research published in 2012 by the World Bank estimates that the potential size of the mortgage market is about Ksh800 billion (about US$9.9 billion) – that is about 13 times its current size.
Given this dynamic, any developer offering homes at less than KES 4M (USD 40,000) is likely to have rapid uptake from the market as long as the homes are in an easily accessible location. It is all about the way a business can make money. One can focus on margins or go after the volumes.
For example, selling an apartment for KES. 20M will give a developer around KES. 4M in profits. For it to sell, the developer will require about 10-12 months as the target group is constrained to the small high income class and only focuses on big margins. On the other hand, targeting the medium to lower income group of potential buyers, a developer can sell 10 units for KES. 2.5M using the same initial capital. This can be off plan and if not, maybe in a couple of months, with lower risk and bigger profits both in the short term as well as long term.
The use of appropriate building technologies and alternative materials by the private sector is a must in order to achieve lower costs. This should be done while keeping at least minimum standards of quality and improve on the number of housing units provided in the market to the poor citizens. It is critical to understand that achieving lower building costs requires more than just talks. The country has a huge need to start manufacturing and producing building materials. This will provide lower costs as well as will create sustainable jobs for the lower income while helping the economy by reducing the imports. The more sustainable jobs created in the country, affordability becomes a reality and more people gain access to the housing market. There are many things that can help towards getting a solution to this major problem but we have to understand that nothing can change in a day, it takes time to see results.
At this point, I would like to comment that it is critical for everyone to understand that the housing problem isn't just physical infrastructure, it is also community infrastructure. A healthy and vibrant community is much more than just houses. It includes schools, clinics, places of worship, parks, and perhaps most importantly, a sense of ownership. It is essential for developers to think holistically, include the physical spaces and social mechanisms that will foster a sense of community. This will determine the sustainability of the projects and keep it from devolving into a slum or a ghost town. The cooperation between the private sector, local authorities and the government is essential in order to achieve this goal.
Trying to analyze the housing crisis is not easy. Unfortunately, the problem of affordable housing cannot be isolated in a country and it is not only African or Kenyan. Rapid urbanization has created immense challenges for cities in emerging economies all over the world. They are unable to deal with the influx of people. Close to 1 billion people around the world live in slums or in other inadequate housing with this number projected to triple by 2050 if the problem remains unaddressed. Considering the enormous need and substantial size of the low-income housing market, which  by the way is worth more than $300bn globally, very few market-based approaches exist to provide housing solutions for poor people and financing for various real estate projects.
In order to find a solution to the problem, a more holistic approach is clearly needed. The private sector's active participation and incorporation of the base of the pyramid housing market is needed not only in Kenya but globally. This approach goes beyond simply constructing houses but addresses lack of financing, infrastructural deficiencies such as links to transportation, water, sanitation, electricity and of course law-enforcement challenges.
Opportunities for private sector companies and entrepreneurs with innovative ideas to enter the market are abundant and range from material manufacturing to retail, distribution, urban planning, developing, investing and financing. Innovative market-based approaches have a huge potential for propelling systematic change and delivering an adequate standard of living to all, but they also have limitations and cannot be implemented in isolation.
Summarizing in a few paragraphs, I consider the following to be essential in order to start working for a solution to this very sensitive matter. Below are the key points according to my opinion.
Leveraging the private sector: Mobilizing capital to overcome challenges in the provision of low-income housing must involve private sector actors in a range of fields, including construction, materials manufacturing, retail, distribution, development, investment and finance.
Ensuring community infrastructure: Ensuring that housing construction incorporates social infrastructure and services such as access to water, sanitation and electricity. This is critical to the economic and social empowerment of poor people.
Making self-construction safe and affordable: Private companies, civil society and policymakers can work together to ensure that guidelines for safe self-construction practices are created and enforced given that low-income residents perform over 70% of incremental improvements on their homes.
Supporting and using the full potential of micro-mortgages and home improvement loans: Micro-loans for home improvements and self-construction are not only critical for improving living conditions, health and productivity, but for income generation and asset creation as bottom-of-the-pyramid micro-enterprises often operate from a family's home.
The importance of tenure and land titling: Streamlined, peaceful and non-discriminatory processes of resolving land title disputes help homeowners to receive the full benefits of loans build safer better homes, which can lead to improved credit and participation in the market.
Reaching the poorest of the poor: Serving the poorest of the poor requires innovative approaches, such as well-targeted subsidies. Working with low-income communities to develop innovative approaches that give consumers a stake in adopting goods and services they may not be accustomed to paying for.
Scaling up public-private partnerships in creating integrated solutions for consumers: Innovative solutions such as combining the sale of construction materials, technical assistance with self-building, assistance with mortgage equity and financial education are essential. Combining technical assistance with finance increases quality and decreases the costs and time it takes to self-build. Through partnerships and innovative business models, companies can offer these much-needed products and services to the consumers at the bottom of the pyramid while improving their bottom lines.
Hoping that all interested parties will eventually start to take action in order to provide a better environment with better living standards for all, not only in Kenya but around the world, I would like to end this article by reminding everyone that this is a problem that affects all of us. Although many people like to think that this has nothing to do with them, the truth is that, in modern societies everything that is happening has direct or indirect effect to all members of the society. This is the reason why we should all be alerted, take action and stand up against all the social problems that surround us.
By Kosta Kioleoglou
REValuer (Tegova)
Chief Strategist (CSO) for the East African Region
Directοr of Engineering – Property Appraisal & Valuations
Civil Engineer Msc – DBM
Taylor Scott International.
Source (http://www.africanexecutive.com/modules/magazine/articles.php?article=8403)