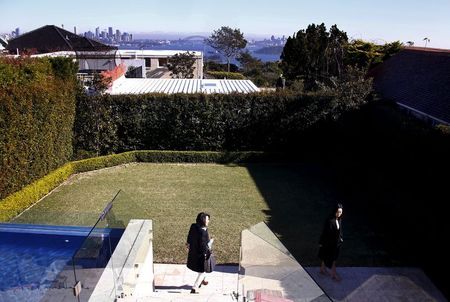 SYDNEY/LONDON (Reuters) – Realtors in Australia, Britain and Canada are bracing for a surge of new interest in their already hot property markets, with early signs that wealthy Chinese investors are seeking a safe haven from the turmoil in Shanghai's equity markets.
Sydney realtor Michael Pallier said in the past week alone he has sold two new apartments and shown a A$13.8 million (6.63 million pounds) house in the harbourside city to Chinese buyers looking for an alternative to stocks.
"A lot of high net worth individuals had already taken money out of the stock market because it was getting just too hot," Pallier, the principal of Sydney Sotheby's International Realty, said. "There's a huge amount of cash sitting in China and I think you'll find a lot of that comes to the Australian property market."
Around 20 percent has been knocked off the value of Chinese shares since mid-June, although attempts by authorities to stem the bleeding are having some effect.
Many wealthy Chinese investors had already cashed out. Major shareholders sold 360 billion yuan (37.38 billion pounds) in the first five months of 2015 alone, compared to 190 billion yuan in all of 2014 and an average of 100 billion yuan in prior years, according to Bank of America Merrill Lynch.
While much of that money may initially be parked in more liquid assets like U.S. Treasury bonds and safe-haven currencies such as the Swiss franc, there is growing evidence that foreign property sales may receive a boost.
"There is anecdotal evidence that Chinese buyers have intensified their interest in 'safe haven' global property markets, including London, as a result of the recent stock market volatility," said Tom Bill, head of London residential research at Knight Frank.
Ed Mead, executive director of realtor Douglas & Gordon in London, said his firm had seen two buyers from China looking to buy whole blocks of flats.
"It is unusual to see the Chinese block buying, it implies that this is a capital movement rather than just individuals looking to park money."
RICH EXODUS
Since 2000, China has had the world's largest outflow of high net worth individuals. Around 91,000 wealthy Chinese sought second citizenship between 2000 and 2014, according to a report by residence investment broker Lio Global, a factor that is fuelling demand to buy foreign property.
Most of these individuals, defined as those with net assets of $1 million or more excluding their primary residences, are moving to the U.S., Hong Kong, Singapore and Britain.
Brian Ward, president of capital markets and investment services for the Americas at commercial property company Colliers International, said Chinese investors had already sunk around $5 billion into U.S. real estate in the first six months of 2015, more than the $4 billion they invested in the whole of 2014.
In London, Alex Newall, managing director of super prime residential realtor Hanover Private Office estate agents said he had seen an increase in interest from Chinese investors at the top of the market, although no transactions yet.
"They're wanting to try and park large sums of money – I'm talking from 25 million pounds to 150 million pounds," Newell said.
"They're looking to park that capital into London homes."
Australia and Canada are also increasing in popularity, gaining an edge from their weakening currencies.
"Property prices are still cheap in RMB (yuan) terms," said Timothy Cheung, a principal of Morphic Asset Management in Sydney.
BACKING OUT
The rush by Chinese investors into foreign property has not been without criticism, with some in London, Sydney and Vancouver blaming them for pushing up already spiralling prices.
The Australian government has moved to look tough on the issue, introducing new fees and jail terms for those found flouting foreign investment rules. The Chinese owner of a A$39 million Sydney mansion was forced to sell up earlier this year after it was revealed the property had been bought illegally through a string of shell companies.
Others are concerned that Chinese investors who didn't bail out of stocks quickly enough will be a drag on international property markets, particularly after Beijing on Thursday banned shareholders with large stakes in listed firms from selling for six months.
In London, Naomi Heaton, the chief executive of London Central Portfolio, said she had heard of investors pulling out of new-build purchases because they no longer had the capital.
It was a similar story for Vancouver real estate agent Andrew Hasman, who focuses on the city's affluent westside area.
"I had a call last week from another agent wanting to know if a seller of a transaction we just did would allow the buyer to back out, because they had just recently lost a huge amount of money in the Chinese stock market correction," Hasman said.
Source (https://au.news.yahoo.com)