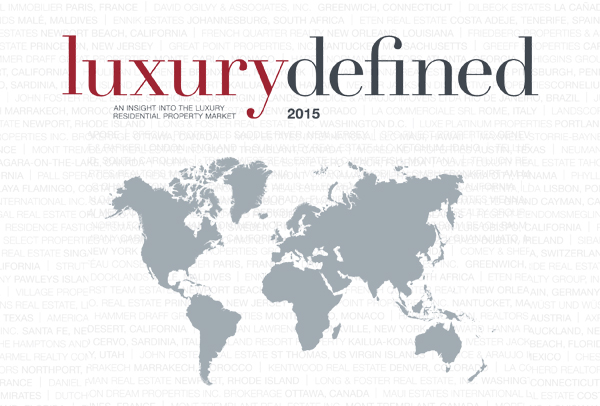 London is the most popular  of the top 10 luxury real estate markets in the world according to Christie's International Real Estate report.
According to Christie's International Real Estate: "The world's top cities experienced an explosion in luxury home sales during 2013, fueled by pent-up demand, increasing consumer confidence and robust stock market returns. In 2014 however, prime property sales in these markets settled into a stable growth pattern that seems relatively tepid".
Based on sales prices, average cost per square foot and number of sales, the luxury real estate arm of Christie's – the fine art auction house – listed the world's top 10 luxury real estate markets in its recent "Luxury Defined" 2015 report.
Limited inventory, strong international buyer demand, and high-net-worth individual's (HNWI) increased appreciation for world-class lifestyle offerings have pushed prices for luxury homes toward historic highs, reports Christie's International Real Estate in a new study on the global prestige residential market.
Entitled Luxury Defined: An Insight into the Luxury Residential Property Market, the report compares 10 of the world's top property markets—London, New York, Hong Kong, Paris, San Francisco, Cote d'Azur, Toronto, Dallas, Los Angeles, and Miami—and debuts the 'Christie's International Real Estate Index,' the first ever true global indicator for luxury residential real estate. The Index ranks markets across key metrics including record sales price, prices per square foot, percentage of non-local and international purchasers, and the number of luxury listings relative to population.
"With financial markets providing a limited return on investment, high-net-worth individuals are recognizing the intrinsic value of investing in non-consumable assets such as prestige real estate and fine art," says Bonnie Stone Sellers, Chief Executive Officer of Christie's International Real Estate, the world's leading luxury real estate network and a subsidiary of Christie's auction house. "Strong momentum in the luxury property market is also being driven by scarcity of quality inventory and demand from international buyers in many of the world's top destinations."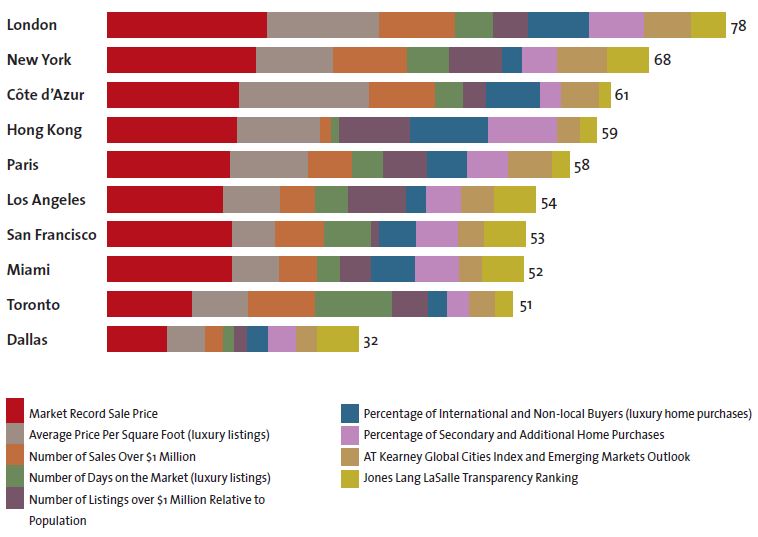 London's $121 million (£75 million) sale and New York's $88 million sale pushed both cities to the top of this year's Index with the highest record home sale prices. A prized second home destination, Côte d'Azur recorded the highest percentage of both secondary home buyers (95 percent), and international and non-local buyers (90 percent). Toronto's real estate market, which has remained buoyant in recent years of global turmoil, recorded the lowest amount of days on the market for luxury listings (46 days).
While the report focuses on 10 indexed markets, it also provides insight into other luxury residential areas around the globe with a population of less than 150,000, such as St. Bart's, French West Indies; Salzburg, Austria; Aspen, Colorado; and Jupiter Island, Florida.
As the only global real estate network owned by a fine art auction house, Christie's International Real Estate has unparalleled access to the HNWIs around the globe who procure assets such as art, wine, jewelry, and luxury real estate. Together with its 125 affiliated brokerages in 41 countries – all individually selected to join its network for proven records of client service and success in luxury residential sales – Christie's International Real Estate is uniquely qualified to understand the characteristics and trends associated with the prestige real estate market.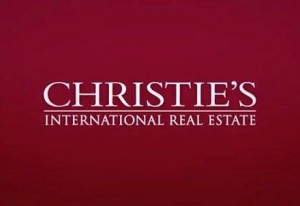 The study can be accessed as a whole at www.christiesrealestate.com/luxury-defined
Source : (www.christiesrealestate.com)