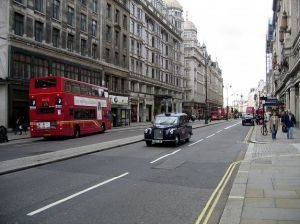 London property rents fell for the first time in six years in July, a major U.K. estate agency said on Monday, with landlords opting to rent out rather than sell houses in the wake of the U.K.'s vote to leave the European Union (EU).
Rents in the capital city fell by 0.5 percent over the last 12 months to average £7 ($9) less per month than in 2015, Countrywide said. This was the first time monthly rents in London had fallen year-on-year since November 2010, when the U.K. was recovering from recession.
Across Britain, rents rose by 1.5 percent year-on-year in July, which was the slowest rate since 2012.
"The large rise in numbers of homes available to rent has certainly slowed rental growth, even with tenant numbers increasing," Johnny Morris, director of research at Countrywide, said in a statement on the estate agency's website on Monday.
"Stock levels were already running higher than usual due to investors bringing forward purchases in the rush to beat the stamp duty (tax) deadline in April. Added to that, uncertainty in the sales market in the run up to, and after the EU referendum, has caused more discretionary sellers to turn to the rental market."
In terms of buying, prices for London houses fell by 2.7 percent or £16,301 in August on the previous month, but were up 2.1 percent on the year, property website Rightmove said on Monday. While it is usual for sellers to price more cheaply in the summer holiday season, the monthly drop was the steepest since 2014.
"Some agents in London and its commuter belt report that the summer slowdown has unfortunately come early, following on seamlessly from the fallow period during May and June caused by Brexit uncertainty," Rightmove said in a its monthly house price index.
The greater hit to London versus the rest of the country may be driven by the surge in housing construction in the city in the last three years and the bigger part foreign money plays in the market. Plus, increases to taxation on second homes, introduced shortly before the Brexit vote on June 23, may have hit demand from foreign buyers.
London prices to decline?
On Monday, JPMorgan Cazenove forecast London house prices would decline by around 10 percent by the end of 2017, with transaction numbers seen falling across the country but prices holding up.
"The magnitude of price declines will to some extent depend on unemployment and any change in demand for buy- to-let (which has been a large component of the market in recent years). At this point, we see more risk that prices decline than not," JPMorgan Cazenove analysts, led by Emily Biddulph, said in a report.
The bank downgraded its rating for homebuilder Countryside Properties to "neutral" from "overweight" and cut the price target for its stock to 250 pence from 280 pence. It also cut its price targets forBarratt Developments, Bellway, Berkeley Group, Crest Nicholson, Persimmon, Redrow, Taylor Wimpey and Bovis Homes.
The latter posted quarterly earnings in line with expectations on Monday and said it was too early to comment on the impact of the Brexit vote.
JPMorgan Cazenove said U.K. real estate stocks were more attractive than homebuilders, as they could benefit from falling U.K. bond yields. Gilt yields have fallen steadily since the Brexit vote and the decline may pressure mortgage rates even lower, making homebuying more attractive.
"The decision by the Bank of England to lower interest rates should help to keep mortgages affordable and plenty of other supportive factors will remain," George Salmon, equity analyst at Hargreaves Lansdown, said in a note on Monday.
"Brits will still want to own homes, whether in or out of the EU, government schemes such as help-to-buy will almost certainly be unaffected, and the U.K. still faces a major housing shortage," he added.
Slump in new unit sales
London property has been viewed for years as a safe-haven for foreign investors' money, certain to rise in value. London Central Portfolio (LCP), which advises on investing in residential property, said this was showing signs of changing, however.
The number of new developments for construction has surged in the last few years, with the skyline of inner London peppered with partially erect blocks of luxury flats. However, only 1,491 new units have been sold so far this year, a 43 percent decrease on this time in 2015, according to LCP.
"In light of the plethora of tax hits over the last few years, possibly exacerbated by the uncertainty of Brexit, it appears foreign investors, the majority buyer of new developments, may finally be turning away," LCP CEO Naomi Heaton said in a note on Monday.
Source : CNBC