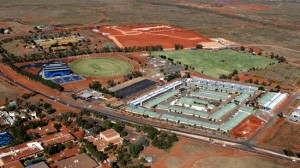 THEIR house prices have crashed after once skyrocketing, but Australia's worst performing property markets have almost nothing in common with Sydney it seems.
The Harbour City property market recently became the subject of renewed attention when numerous indicators showed growth in house prices is slowing, prompting some commentators to warn of a coming crash in property values, but a report by Hotspotting.com.au shows Sydney's cooling market is no cause for alarm.
The Price Predictor Index pinpointed a string of property markets that went from boom to bust after years of massive price increases ended in a sudden drop in property values — a scenario some believe may happen in Sydney — but there are significant differences between these areas and the NSW capital.
Weak housing markets include Queensland towns Gladstone and Moranbah, along with Western Australia's Port Hedland, Karratha and Newman and NSW's Muswellbrook. All these towns are in mining areas.
If the forces that drove these area's rents and prices down are anything to go by, Sydney's housing boom is better positioned to end in a soft landing, rather than a hard one.
Hotspotting director Terry Ryder explained that the major price falls that occurred in these towns were driven by massive spikes in the supply of new housing — something that has not happened in Sydney.
The increased supply was matched by falling demand brought about by changes in the resources sector.
The experiences of these towns, deemed by Hotspotting.com.au as some of the worst property markets for investors in the country, contrast sharply with Sydney:
Gladstone, Qld
The construction phase for three LNG facilities created a house price boom in Gladstone, but it started winding down in 2012 as workers began seeking jobs elsewhere and developers started constructing a mass of dwellings. Many of the workers that remain in the area have been accommodated in camps, circumventing the local housing market.
Moranbah, Qld
Moranbah's median house price grew by roughly 30 per cent each of the 10 years to 2012 to reach $750,000, while rents were $1800 per week, on average. Then the mining companies began operating fly-in, fly-out workforces in temporary workers' camps and the property market went into free fall. The median house price is now $215,000, houses typically take eight months to sell and rents are $300 per week.
Muswellbrook, NSW
The Hunter Valley was another location hurt by zealous developers amid a downsizing coal industry, Hotspotting.com.au said. The region was booming until recently, attracting a swarm of developers, who built too many houses. Muswellbrook has been the worst affected. The median house price has been falling since 2012 and is now the same as it was five years ago.
Newman, WA
House prices in the Pilbara town of Newman are lower than they were five years ago and fell 22 per cent in the past 12 months. A massive iron ore mine was recently constructed near the town, but the mining company involved became wary of paying high rental costs to accommodate its workers. Its solution was to build a 2000 room village so that employees wouldn't need to live in local housing.
Port Hedland, WA
The end of the resources boom has also blown a hole in Port Hedland housing demand. A little over two years ago, Port Hedland had a median house price of $1.3 million. Today it is $850,000. The median weekly rent has dropped from $2500 to $1000.
Surat Basin, Qld
The Surat Basin, just west of Brisbane, is a major coal seam gas field. Towns such as Chinchilla and Roma once boomed — until oversupply killed their markets. There are about 15,000 resources workers in the area, but 94 per cent are now accommodated in workers camps, according to Hotspotting.com.au.
Karratha, WA
Karratha home values used to be over $800,000, but prices have fallen across all the region's suburbs over the past year to reach approximately $500,000. Falling prices were also a result of developers building too many houses. Hotspotting pointed out that in the 10 years before 2011, Karratha dwelling approvals averaged 183 per year. In 2012 and 2013 there were more than 1300 total approvals.
SYDNEY
Spring has brought about a surge in listings. Roughly 24,000 homes are on the market for sale, compared to around 19,000 earlier this year, but long-term trends show this is still an under-supply of properties for sale. Building activity was also below trend for almost a decade before 2013, creating a shortage of housing. That shortage is forecast to last until at least 2018 if the city's current rate of building is maintained.
Core Logic RP Data figures show the average house takes roughly seven weeks to sell — the fastest among any major capital — while units take an average of 41 days to sell.