Lower-priced homes sell quickly while inventory on the higher end piles up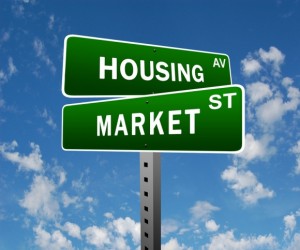 A two-bedroom house in Los Angeles listed for $585,000 received 10 offers in the first week it hit the market, with the winner agreeing to pay $640,000.
Meanwhile, a four-bedroom house a few miles away, priced at $3 million, sat on the market for more than a month with no offers before selling for $2.75 million in January.
The divide in Los Angeles is typical of what is happening across the country. Housing has become a tale of two markets, brokers and economists said, with lower-priced homes selling quickly even as inventory of expensive ones piles up.
Nationwide, the number of homes for sale priced below $100,000 fell 8.6% in January from a year earlier, while the number of homes priced above $1 million rose 15%, according to the National Association of Realtors.
Price bands in between those levels show a similar trend: The less expensive the price, the smaller the growth in the number of homes on the market.
Advertisement
Economists said a number of factors are creating the divide. On the low end, after a slow recovery from the housing bust, first-time buyers are finally returning to the market, bolstered by still-cheap mortgages. But after years of little new construction, inventory is still tight.
High-end buyers, meanwhile, are more sensitive to the stock market's struggles this year.
"In certain price points, it's really tough for buyers right now. There's limited inventory and lots of demand," said Los Angeles real-estate agent Alec Traub. But for high-priced homes, Mr. Traub said, "things may be sitting on the market a little longer."
At January's sales pace, it would take about four months to exhaust the supply of existing homes for sale, according to the National Association of Realtors, compared with 4½ months in January 2015. About six months is considered a balanced market.
Mark Cospito, 58 years old, plans to close on a newly built condominium in Naples, Fla., in mid-April. In October, he visited the wealthy city for the first time, and before the trip was over, he paid asking price for a $240,000 condominium in a building now under construction. That is below Naples's median price of $340,000.
"When we visited, there were people in the sales office with checkbooks. They were buying," said Mr. Cospito. "I did feel a little bit pressured." Mr. Cospito said he received an email three weeks later saying that the condominium project had sold out.
On the other hand, Brendan Duffy, Mr. Cospito's real-estate agent, said buyers in Naples willing to pay more than $2 million have much more to choose from than they did a year ago.
"There's so much coming out of the ground in those higher price ranges," Mr. Duffy said.
According to the Naples Area Board of Realtors, while the number of homes for sale priced below $300,000 fell 9% between January 2015 and January 2016, the number of homes for sale listed above $300,000 rose 23%.
Phoenix real-estate agent Cami Elliott said one buyer she recently worked with who wanted a home for about $750,000 had more than 45 potential homes to look at. If that buyer were looking for a home priced closer to $400,000, she said there would only be three or four.
While rising prices typically entice more home sellers and builders to come into the market, that trend has been slow-going for low-priced homes. According to real-estate broker Redfin, prices in the bottom third of homes rose 38% between 2012 and 2015, while the number of homes for sale fell 39%. For the upper third of homes, prices rose 23% while inventory jumped 36%. "It feels like the laws of supply and demand are broken," said Redfin CEO Glenn Kelman.
Some low-priced homes on the market have been foreclosed on, vacant and need extensive rehabilitation, driving potential buyers to the even smaller subset of homes that are ready to live in, said Sam Khater, an economist for CoreLogic.
While the percentage of homes sold within 30 days is back to its housing-boom peak, Mr. Khater said, the percentage that has been on the market for more than six months is eight points higher than in the boom years.
Home builders' reluctance to tackle the entry-level market hasn't helped. In 2015, the average home size rose to 2,720 square feet, according to the National Association of Home Builders, from 2,660 square feet in 2014.
Tim Lewis, a luxury home builder in Northern California and Nevada, said he has seen sales slow for homes priced above $500,000 and is starting to search for lots on which he can build cheaper homes. He said buyers in expensive communities are still coming in to look but are more hesitant to buy.
"They're more conservative. They wonder if we're entering a recession," Mr. Lewis said.
The few large builders, like D.R. Horton Inc., that have tackled the starter-home market are seeing success.
"Certainly, the entry level of the market is the strongest right now, and any time we see that in the market we expect further competition," D.R. Horton Chief Operating Officer Michael Murray told analysts earlier this year.
Barclays analyst Stephen Kim said thus far, other large builders have been content watching and waiting, but that as the luxury home market stalls, more will be driven to construct cheaper homes.
"If you continue to see first-time home buying grow faster than the industry over all, it will happen," Mr. Kim said. "It's only a matter of time."
Source : http://www.wsj.com/articles/housing-market-takes-on-split-levels-1457433007